Mold Remediation
Mold/Mildew/Microbial Contaminants
Let Our Technicians Test, Assess and Remove Potentially Harmful Contaminants for Complete Mold Remediation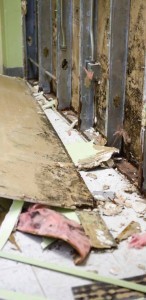 Mold is always present in our environment. Most molds are harmful, however black molds and other varieties that grow rapidly in moist conditions can be both harmful and toxic. Mold spores increase rapidly when exposed to moisture. When an indoor environment increases in moisture, especially following a catastrophic water event, mold spores will grow exponentially. This type of exposure to mold can cause health problems such as allergic reactions and headaches even before they become visible to the human eye.
If you suspect that your home or business has been affected by mold, call the experts at DALLASWHITE to contain it and remove it. We specialize in mold remediation. Our certified team specializes in remediation and removal and are available 24/7 to assess and service the removal of these contaminants.
To ensure your health and safety, our certified technicians will set containment, dry, and decontaminate the affected areas according to protocol compliant with OSHA regulations.