Contents Restoration

Emergency Cleaning, Storing and Contents Manipulation
Restoring Your Belongings Back to Normal
DALLASWHITE now offers Contents Restoration Services. When your belongings have been impacted by bacteria from unforeseen emergencies such as fire damage, smoke, water or other elements, you can trust that DALLASWHITE will restore your valuables to pre-loss condition in a timely manner. There is hope for restoring your personal belongings to the way they were and our team will be there for you in each stage of the process. So where do you begin?
Call 1-800-821-8941.
Thorough Cleaning, Clear Communications, Fast Results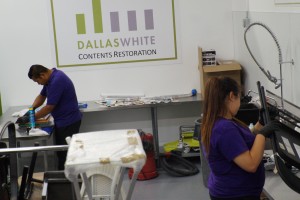 During the remediation process, your contents will be handled with the utmost care by our expert contents team. Upon your service request, your DALLASWHITE representative will contact you and your insurance agent to schedule an initial inspection meeting at your property to assess the impact of damages, to develop your loss inventory list, and to recommend the appropriate services needed to protect and restore your valuables. A separation process is conducted to assess what contents can be recovered and what has been deemed a total loss and unrecoverable.
High-Quality Service and Support
From start to finish, your assets are treated with the utmost care and protection by our technicians throughout the contents restoration process. Our team of content restoration experts will carefully document, photograph and catalog all of your belongings, as well as hand-pack, transport, clean, disinfect, deodorize, dry and store your personal items off-site, if necessary. Upon completion of cleaning your contents, our representatives will contact you and your insurance claim representative to schedule your pack-back date.
Want to learn more? To receive a complimentary estimate for contents restoration services, please contact us at 1-800-821-8941 or click here.